Part One
Don't you get dizzy sometimes when you are trying to keep up with things around you? Most of them seem to change with light speed, while we are doing our best to keep our balance! And this is true not only about the news in the world but healthcare, fashion, climate change, career, and social relationships. What to say about technology then??
While most of us were constrained to slow down because of the COVID 19 pandemic, others that are into coding, were working hard to advance the softwares that will make many lives easier.
Nowadays, for those who are interested in building their own app market offers a multitude of powerful "no-code development" tools that ease their work. While a few years ago only a very small group of software developers were able to build things on the internet, now everyone can be a creator, thanks to the new software development. We are talking about special app development software – mobile platforms to help you create apps by yourself, no matter if you have or not any coding experience.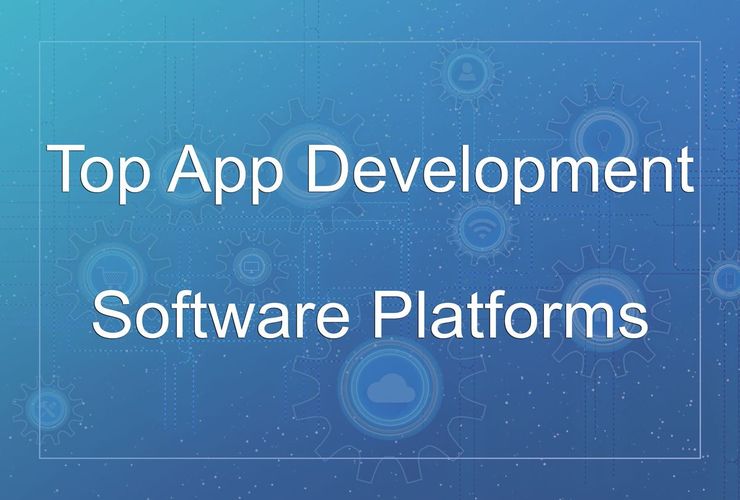 We've been monitoring very closely the mobile app development software from its early days and we can honestly say that it's amazing what has been accomplished in such a short period of time. The level of innovation, creativity, and adaptability are also impressive.
They go under different names, as app building platforms, app makers, app builder software, app builders, app creators, mobile development software, etc. Their ultimate goal is to allow anyone to create mobile apps, by customizing different features, elements, and design. These platforms create different types of apps:
mobile or Web apps (basically mobile versions of web pages accessed through browsers. They are not downloadable through app stores);
native apps (fully functional standard mobile apps, built for specific platforms and downloaded through app stores.);
hybrid apps (look and build the same as web applications, and are wrapped in a native cross-platform technology. They have the big advantage of being easier to update, create, and manage).
Here are some of the platforms that really got our attention and a little bit of analysis that we have done about each one of them. But, let's be clear, they are written in a totally arbitrary order, because we know that if you are looking for the one that works best for you, you will want to see more of them and choose the one that fits your requests.
GoodBarber helps you create Native apps and Progressive Web App builders for eCommerce and Content Management with the most advanced mobile technologies.
GoodBarber provides more than 500 features to build your app, without having to write a single line of code. They offer many cool advanced features such as social networking, chat, Geofencing, and iBeacons.
GoodBarber differentiates their mobile app development platform with the exceptional user experience they provide to their customers. As a starting point you can choose from more than 50 elegant templates, and further on you can customize your app using more than 350 icons and 600 fonts to get the design you want. From here, there is only one step to high-quality design. They also provide multiple app management options, for example, a CMS, audio/podcast features, event listings, user profiling, sharing/comments section, mCommerce integrations, etc.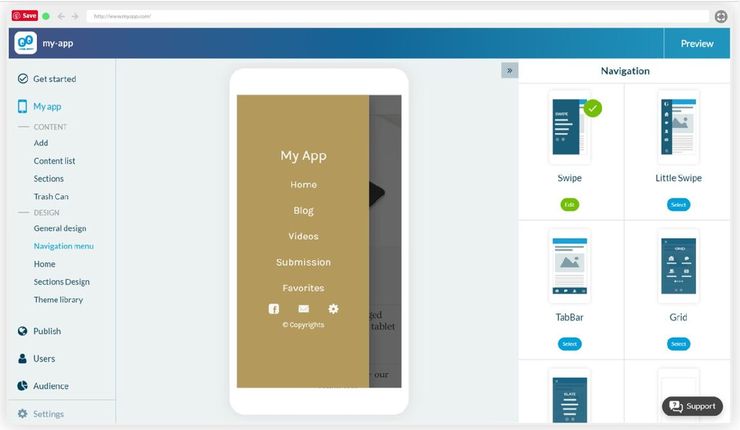 Pricing: Ranges from $25 per month for a progressive web app (PWA) to $96 per month for PWA, Android & IOS app (based on yearly subscription). They also offer a free month trial period.
Conclusion: GoodBarber will fit the demands of most people, mid-size, and smaller companies who want to develop a functional business application with a gorgeous design. GoodBarber costs a little more than some of its competitors, but the quality and ease of use to justify the price.
Website: www.goodbarber.com
Appery.io is a low-code app development platform that makes it easy to create hybrid mobile apps, web apps, and PWAs. While most software requires you to download the program locally on your computer, Appery.io runs solely in the cloud. For non-coders and non-designers, the drag-n-drop options all way through, is especially appreciated. Simply choose the components, or available app templates, and assemble your user interface. The integrated backend services such as cloud database, server-side scripting, authentication, push notifications, and others, are also a big plus.
If you have another backend team that can take over the development of the app Appery.io provides the tools that will create RESTful APIs from various enterprise systems such as Oracle, SQL Server, MySQL, SAP, Sharepoint, LDAP and more.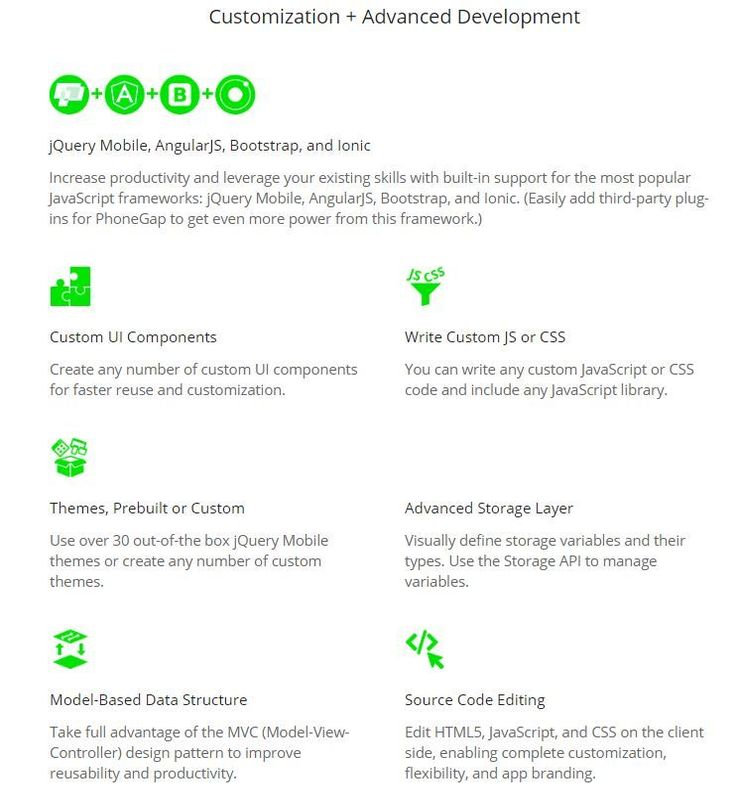 Free trial active for 14 days.
Pricing: For $25 paid monthly for 2 apps, Pro for $70/mo annually for up to 3 apps & team management, Team for $135/mo annually for up to 7 apps & team management, and Ultimate for $500/mo paid annually for up to 12 apps & team management & support services.
Conclusion: Appery.io is the way to go if you have a backend team that you can use for your app development, or you have a little technical experience. However, if you are looking for a simple app and you are no coding expert, you may find a better one at a more reasonable price.
Website: appery.io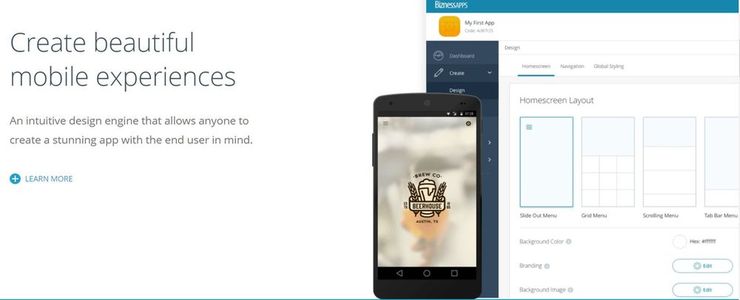 Developed especially for small business, "Bizness Apps has published over 50,000 native apps and spent 7 years building a formula for the perfect mobile solution" according to Andrew Gazdecki, Bizness Apps Founder & CEO.
This could be a good choice for freelancers, home delivery businesses, marketing agencies, restaurants, beauty salons, real estate agents, etc. Among popular features are things like coupons, scheduling, geographic directions, service reviews, and loyalty programs.
Bizness Apps offers a good visual editor, multiple integrations (including 3rd party services), mobile ordering, music and video players, GPS-based directions and notifications, as well as 24/7 support and complete turnkey support for any app reseller agency. This provides sales training to quickly become a mobile expert, niche-specific marketing materials, complete white label solution, and personal success path.
Pricing:
$99/month for an individual customer for a single app;
$300 per month (reseller plan) for up to 20 Apps & Unlimited PWA's & limited support,
$360 per month (reseller plan), for up to 20 Apps & Unlimited PWA's & additional support plus white label marketing & phone support,
$400 per month (reseller plan), for up to 20 Apps & Unlimited PWA's & unlimited support & marketing materials & web/app design limited time.
Conclusion: If you are a small business or an app reseller agency, this is a very good choice for you. However, if you are at the beginning of your business, and don't have a significant budget allocated for this, you might find a better fit for your needs.
Website: www.biznessapps.com
Appy Pie is a leading no-code platform, which creates powerful mobile apps and websites, as well as designs stunning graphics while accomplishes much more, without writing a single line of code. Probably most of its popularity comes with the possibility to build mobile-friendly versions of websites for free. The native apps plans start at just $18 per month and offer plenty of industry-specific ready to use templates.
There is a 7 day free trial available to develop and test your application for your personal, non-commercial use. This will allow you to get familiar with the product and decide if you want to spend more to get more out of it.
Some of the institutions or businesses that benefit the most from a mobile app created with Appy Pie are real estate agencies, radio & music enterprises, churches, restaurants, e-commerce businesses.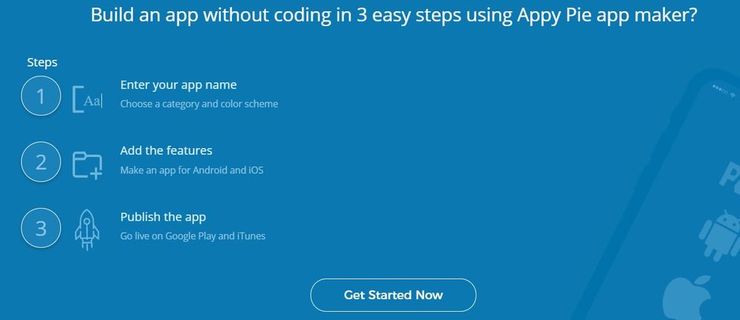 Pricing: If you are just making a web application it is free to use.
The Basic plan is $18 /app/month and includes app distribution, 5000 push notifications/month & 5000 app downloads & email customer support.
The Gold plan is $36 /app/month and includes app distribution, premium features, 10000 push notifications/month & 20000 app downloads & email and chat customer support.
The Platinum plan is $60 /app/month and includes app distribution, premium features, 25000 push notifications/month & 50000 app downloads & email, chat, and call customer support.
Conclusion: If you are looking to build an app or a website in minutes Appy Pie is the software that can help you while finding a domain and hosting the website for you. It also connects your data and builds smooth workflows. However, compared with other app builders, the template designs are a little outdated, and adding some of the features can be a little bit confusing.
Website: www.appypie.com
AlphaTech is one of the most advanced software that provides you the ability to create your own customized app in as little as 30 minutes.
It delivers state of the art cloud platforms that are for data and process management.
Some of the advantages obtained when you use AlphaTech:
It is a secured, extensible, and interoperable platform.
The making/managing your projects is extremely fast and simple. No need to know any coding.
There are many ways to configure so you will be able to customize your product according to your business requirements.
You can make changes anytime you want and they will be published instantly.
Has its own platform, AlphaPortal that provides a set of modular cloud-based services that allows you to design anything from simple to complex applications.
AlphaTech allows you to track your app's success with advanced analytics.
Reaching customers was never easier through push notifications.
There is the possibility of trying it for free and seeing if you need to go Premium or not yet.
There are many Alpha Products available that will help you manage your business easier and connect with a community built around your interest area.
If you are a reseller agency, there are promising opportunities available for you. Check out the White Label Resellers details.
The prices are very good, with different packages for different services, starting with a FREE one!
See more benefits for using AlphaTech when developing your free app visit: Advantages of using a no-coding app development platform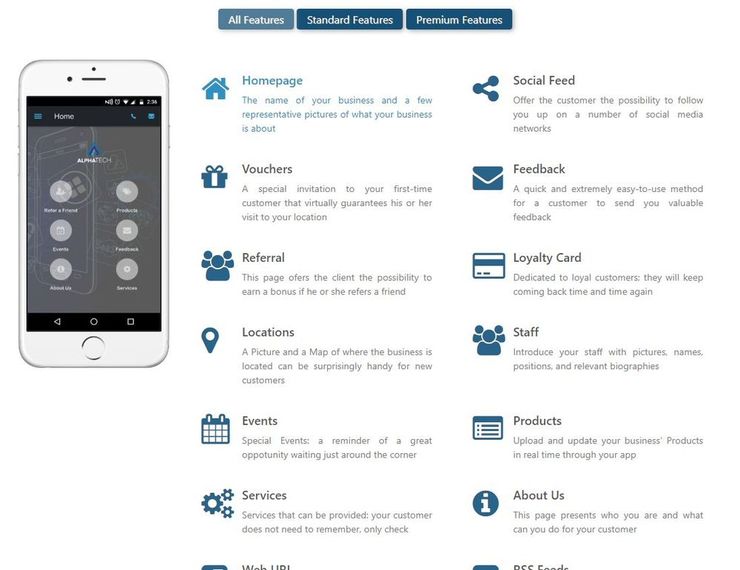 Pricing: Starting FREE for the Standard option, including: Ad supported, No premium features, Limit 50 items in each list, WordPress integration included, App broadcast included, App In App included and going all the way to Premium for individuals for $100/month with All features, No limitations, App broadcast included & App In App included and different packages for White Label Resellers.
Conclusion: If you are looking for a highly innovative, and configurable platform to create your business app at the minimum cost? AlphaTech is the no-code development platform that meets your company standards and grows your business at an accelerated rate! And all this for free or when going Premium with the best price on the market!
Website: alphatech.technology
Conclusion:
Are you looking for an easy to use platform to create your own app at the minimum cost? Get the AlphaTech tool that is highly innovative, and configurable while meeting your standards and growing your business at an accelerated rate! We developed features that allow you to use your creativity and be ahead of your competitors. Just make it yours!
Dare to be creative.

Dare to be different.

Dare to be ahead.

Dare to start NOW!
For more app development platforms analysis, see the Second Part of Top App Development Software Platforms.