Part Two
Let's continue the analysis of the other app development software platforms. In case you've missed our first part of it, you can find it here. And, please remember that these are only a few of the most important and successful app development software platforms, so, please feel free to send us a note with your list, if it is different from ours.
Swiftic is a good solution that works best for small and middle-level businesses that are looking for creating an app to help increase their sales and online presence. Some of their success stories go in the area of food delivery industry, health, beauty & care, as well as retail companies.
The platform allows you to custom-make applications that are beneficial for your business. There are about 7 different templates and UX/navigation styles, along with any colors, background pictures, building blocks to choose from.
The big advantage is that Swiftic offers a 30-day money-back guarantee, so starting to create your app on this platform is risk-free!!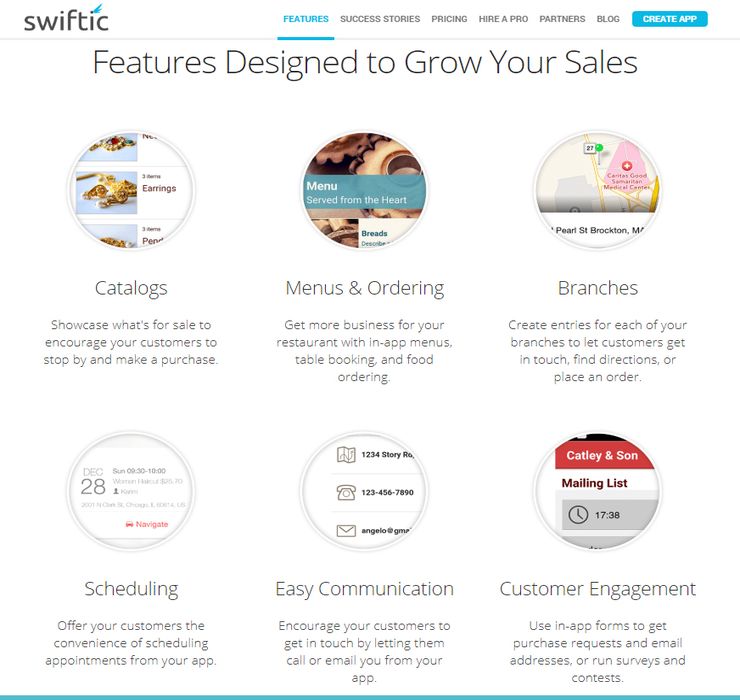 Swiftic screenshot
Pricing: $48/month if paid yearly, $57/month if paid every month, and $41/month if paid once every 2 years. These plans include your very own app on Android & iOS, plus a mobile Webapp and Landing page!
Conclusion: If you are a small to medium company and don't want to risk anything when creating its own app, Swiftic is a good platform that offers you over 25 profitable app features, unlimited push notifications, advanced analytics, comprehensive support, and a variety of promotional tools. With unlimited app downloads, the sky's the limit for reaching your on-the-go customers.
Website: www.swiftic.com
AppsBuilder helps you to build HTML5 and native cross-platform apps with easy-to-use, fully customizable layouts, designed to deliver on your marketing goals and ready to publish on app stores.
Also, AppsBuilder is a scalable solution for the marketer looking to build 1 app or a hundred, with room to grow. The white-label platform empowers and promotes collaboration.
Trial 14 days available.
The awesome thing about AppsBuilder is that besides the team that is available to answer all your questions and issues, there is an impressive collection of guides, templates, case studies and videos to inspire your own app success. And as news, AppsBuilder have recently powered up with Swiftic to offer the clients many new features & abilities.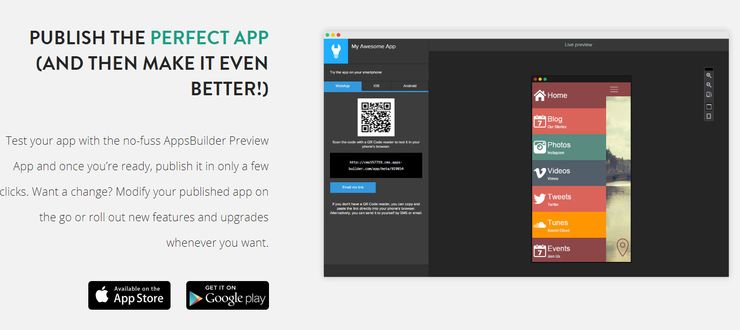 AppsBuilder screenshot
Pricing: There are many different plans according to your interest (consumer Whitelabel) starting Bronze (only webapp) $10/month if paid yearly; Silver (basic native app) $26/month if paid yearly; Gold (full native app) $43/month if paid yearly; Reseller White Label from $54/month if paid yearly for 1 app.
Conclusion: The platform allows you to create customizable apps no matter the level of coding you know, and no matter its complexity. It is a good platform that allows you to set up multiple accounts and manage permissions to bring your entire team into the project. With their white label version, branding the CMS and giving external parties access to the development platform or app marketing tools is very easy! And all this at a reasonable price, according to your interest.
Website: www.apps-builder.com
With more than 8 years of experience, 5000 apps in stores and 100M users, Shoutem helps you create apps with a premium look and feel. The platform allows you to create your own app by simply using modular building blocks called extensions and customize them with drag & drop options.
With a variety of different features like Loyalty, E-Commerce, Social, News, Deals, Shoutem provides a comprehensive solution for various types of apps along with a White-labeled agency dashboard.
Free trial available.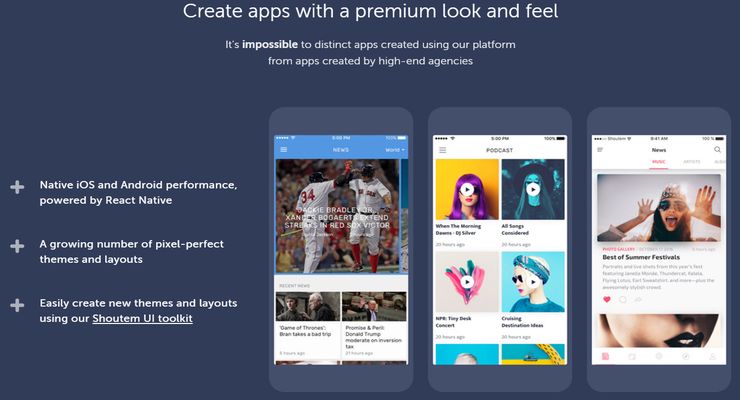 Shoutem screenshot
Pricing:
Android only: $49/month for annual billing for one app with Extension Marketplace, CMS, developers access, automated app publishing, and push notifications;
Standard: 79/month for annual billing for an app with support for iOS, Shoutem app review, analytics, notification center, and user management;
Professional $149/month for annual billing for an app with data importers and advanced Shoutem extensions like Social and Loyalty
Conclusion: Shoutem is a powerful app maker platform, which allows you to create great mobile apps in an easy and fun way without any code experience. The prices are pretty big for a startup or a simple agency without an impressive budget but for the number of features and templates they offer, it is understandable.
Website: shoutem.com
AppInstitute is one of the best app development software specially designed for busy small enterprises. This software is free to use, build a mobile app quickly, and provides online chat support to novice users. This intuitive app maker allows users to develop apps in four easy steps without writing a single coded line!
Their cloud-based service aims to revolutionise the app market by providing a SaaS (Software as a Service) platform that allows businesses and individuals with little to no prior technical knowledge to create their own app.
They created templates easy to use for 31 types of businesses, so there is a great possibility you can find yours in there.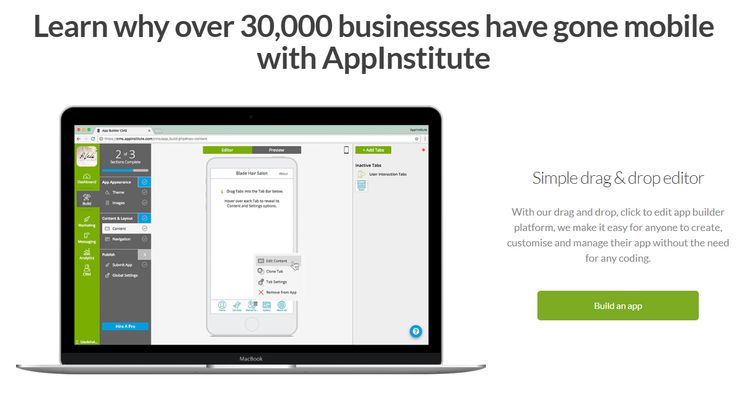 AppInstitute screenshot
Prices: Start building your app for free. Progressive Web App compatible across all mobile and tablet devices for $42* /mo when billed annually, and goes all the way to reseller options for everything you need to start making money selling apps to small businesses from $340 /mo when billed quarterly.
Here you will most definitely find the version that best fits your needs.
Conclusion: With the AppInstitute App Builder you can make an app for your business in minutes. The app builder comes pre-loaded with templates that perfectly fit your business. Simply select your business type below to get started.
Website: appinstitute.com
AlphaCommerce is designed to create the mobile application that a restaurant owner needs. This is a highly innovative, and configurable platform to create a business app for a restaurant at low cost.
AlphaCommerce is the complete solution for a restaurant to provide the best service for its customers. They give branded mobile applications for Android and iOS, mobile-friendly website order and quite a few other gadgets, but the most valuable item on the list is our full-service offer. They manage everything you need for the platform: add and update menu items, update different types of content, schedule special offers and discounts, send push notifications, help with marketing materials for the mobile apps and so on.
The platform strives to increase value and solve problems in the most efficient way possible by:
Increasing customer satisfaction
Improving productivity and efficiency
Saving time
Reducing costs
Protecting previous investments
Gaining a competitive edge and growing market share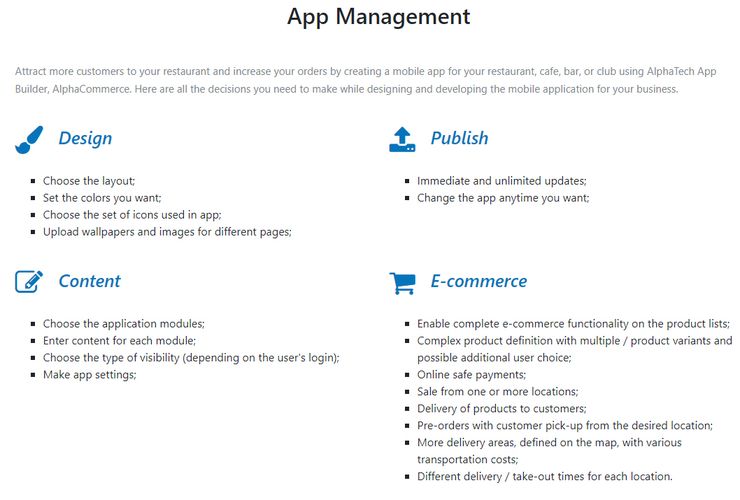 AlphaCommerce screenshot
Pricing: $3000 - one time payment for the basic setup or $300/month. Includes a Premium app license.
Conclusion: If you are in the hospitality industry, AlphaCommerce is created especially for you to craft the perfect application for your business, with app and order management special features. Create your own branded app today!
Website: alphatech.technology/AlphaCommerce
Conclusion
These were only a few of the top easy to use app builders, and we are sure your experience with one of these, or with a different one will be very much appreciated not only by us, but by other consumers as well, so, please do not hesitate to send us your comments regarding the no-code development software your are familiar with.