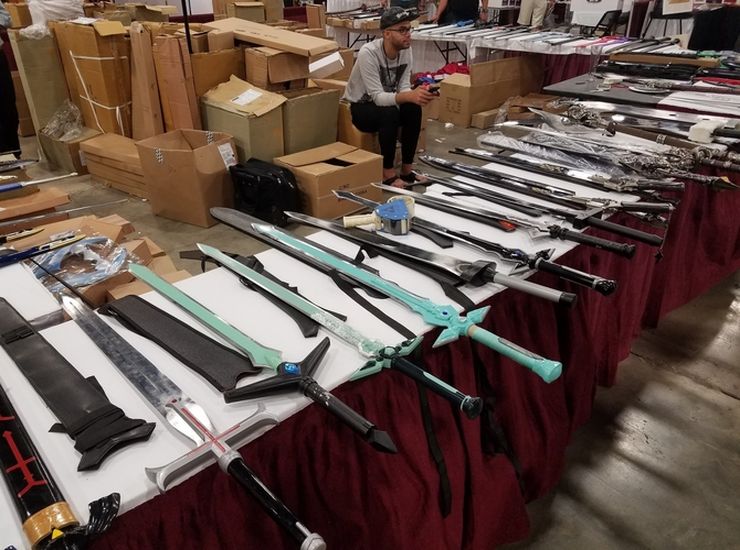 Waiting is rarely pleasant.
Especially when your livelihood depends on customers finding you during Supercon, i.e. in the midst of an area the size of a football field literally packed with visitors and other exhibitors. When you are cooling your heels waiting for whatever fickle Fortuna decides to throw your way you are bound to ask yourself if this is the unavoidable fate of small businesses. A lot to offer, really good prices... and abysmal visibility?
The photo we decided to display at the top of this post couldn't be more representative of, both, the huge potential a lot of these exhibitors have (just look at the huge variety of awesome swords they have to offer) as well as the unbelievable low efficiency when it comes to drawing in sword enthusiasts. The supreme irony is that the very thing that can change this placid scene into one of hectic activity is right there, in his hands! Yep, the smartphone!
Smartphones and apps hold the future... even if some SMBs don't know that
Not so far ago we published on our blog some of the more interesting trends and future predictions we gleaned from the influential Meeker report. In digital advertising, Google and Facebook together amass a whooping 76% market share and apparently their control is growing. More importantly, growth is mostly driven by mobile devices: 66% increase in online advertising compared with 5% on desktop!
Surprisingly, many SMBs simply do not know that they can have a professionally made app in next to no time at prices that make their previous ad-budgets seem positively outrageous. Why are we saying that?
Insider knowledge, so to speak. Lorin Morar, our CTO at Alphatech visited Supercon to indulge his not-so-well hidden inner geek. Supercon is famous for being a sort of Mecca for all kinds of superhero addicts, gamer geeks, comic book fans, SciFi & Fantasy celebrity stalkers and all sorts of cosplayers. The place where bumping into Spiderman (or Spiderwoman), Harry Potter or Deadpool doesn't seem incongruous. Where stormship trooper helmets and jedi lightsabers rest next to Lord of the Rings replicas of Orcrist and Gammdring; Batman, Robin and Catwoman pop soda's next to Pikachu and Ninja Turtles; and where the Corpse Bride may be seen happily exchanging phone numbers with a zombie from the Walking Dead...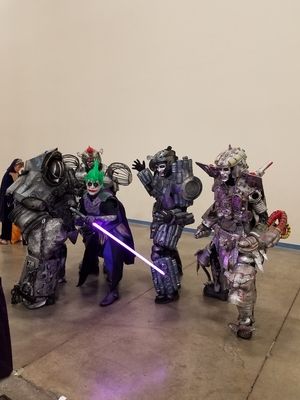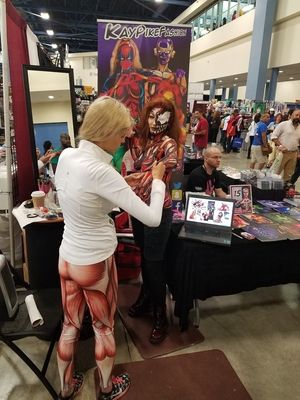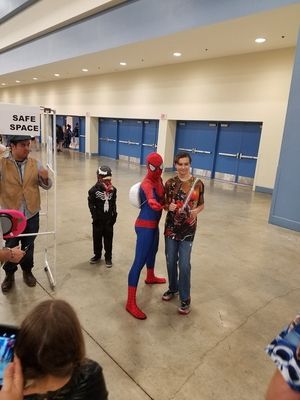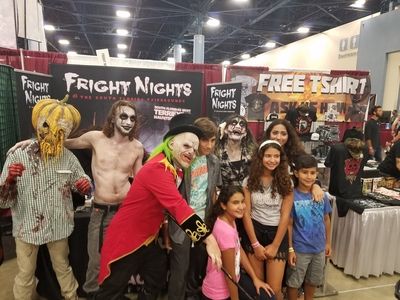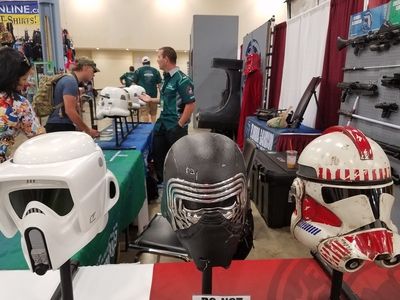 Alphatech demo app: a good example of a feature-rich app
What started as pure fun ended up as a prolonged business meeting: talking to scores of exhibitors astonished to hear just how much an app can do for them. And what Alphatech has to offer in terms of features. And how quickly we can make a fully functional low-cost business app. All he had to do was ask them to download our Alphatech app to see for themselves and example of an app that incorporates the full range of Alphatech features.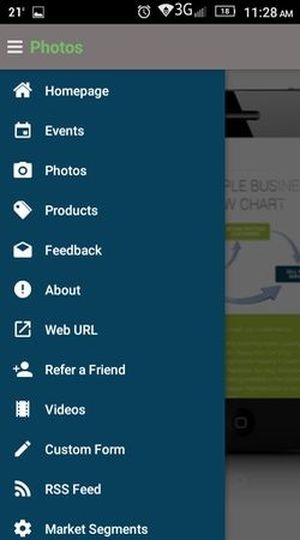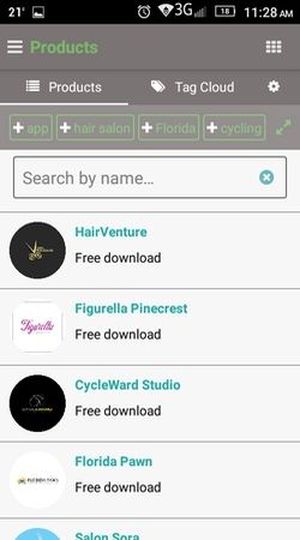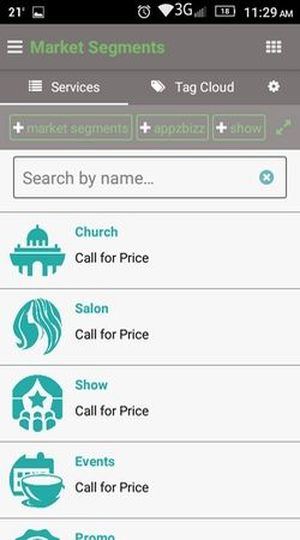 Toynami app: designed for a manufacturer and distributor of toys and collectibles
"Yeah, but have you actually done apps tailored to our specific needs? Superheroes? Cosplay? etc" - was one of the common questions. Sure!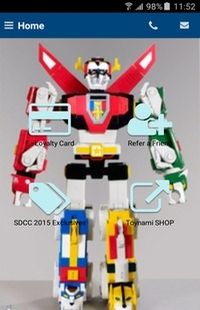 Meet Toynami, an app created by CashDoctor.biz on the Alphatech platform. Toynami is a manufacturer and distributor of toys and collectibles based in Van Nuys, California. Formed in fall 2000, Toynami has quickly made a name for itself as the home for high-quality, highly detailed toys based on some of today's hottest media licenses.
Shortly before San Diego Comic Con 2015, George Sohn learned about our app building platform and was instantly interested in making a low cost app: having his own app the SDCC would offer invaluable advantages. People come from all over US and many are interested in the collectables offered by Toynami, but they need a better way to stay in contact. The app offered a way to do just that.
Building and testing the app, once Toynami decided on what features to include and how to personalize it took us no more than several days and it was published on Android on the 23rd of June, followed two days later by iOS publication.
How the Toynami app helps the Toynami business
Consider the company's mission: figure out what the fans want, and give it to them at the highest quality possible.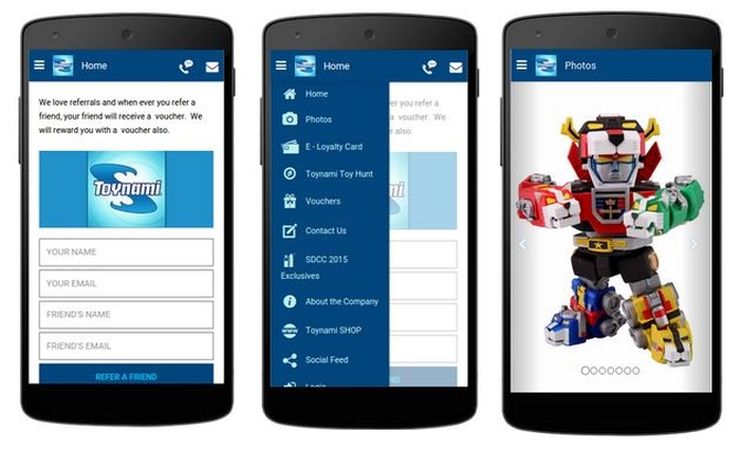 Let's start with the reason Toynami App's Homepage (see above) opens with a referral invitation. The Referral feature is what we call a "core feature", because it allows businesses to tap directly into the social network of satisfied customers and be advertised organically to friends and acquaintances. with the menu opened showing most of the app's pages. The next images shows Toynami menu with almost all of it's pages visible without having to scroll down. Since Toynami is, first and foremost, about collectables we ensured that the the Photos page has a prominent position and allows clients to thumb easily through the recent additions.
Toynami app SDCC page with an exclusive collectable
Toynami is a regular presence at various comic cons and they asked us to design a page dedicated to their generous offer of various collectables they will exhibit at SDCC 2015. Above you can see the SDCC page and two randomly selected items from the list - the Stealth Leader VF-1S and a Terminator Genisys ½ scale endoskull.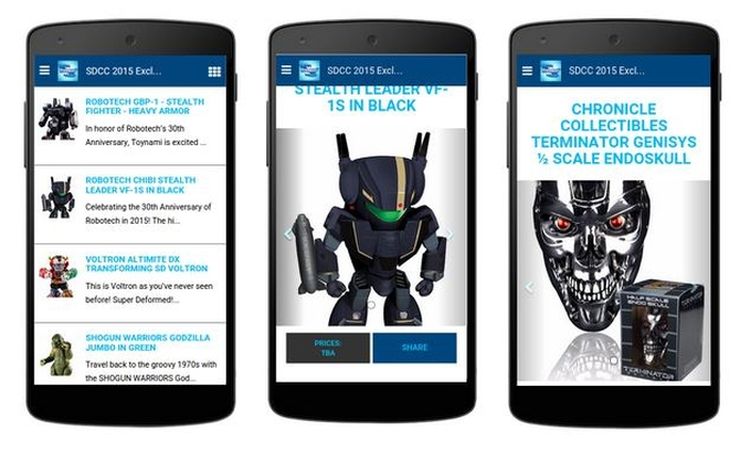 Toynami app Vouchers E-Loyalty card Social Feed
Toynami app is an example of businesses that adopt features in line with a more flexible business model that emphasize working with the customer, rather than independently of the customer.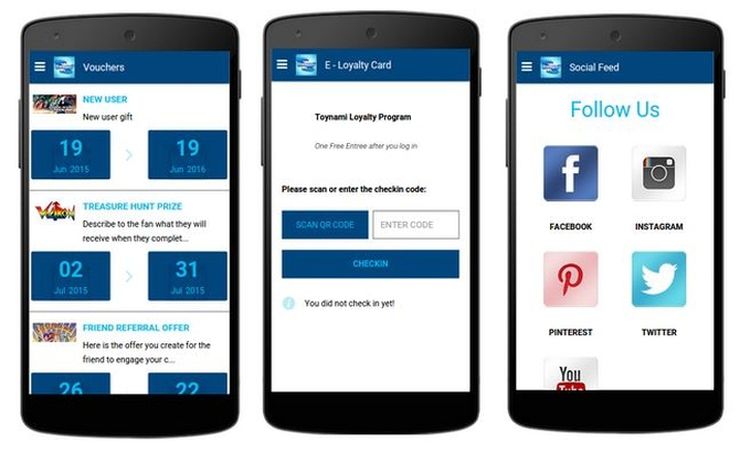 In our increasingly mobile culture, we strongly advocate the idea that satisfied customers are can be your greatest asset. Vouchers and E-Loyalty are the other two core features we've made available to businesses that want a functional and profitable app (see above). Finally, keeping in touch with your customers via social media isn't just an option anymore, but a must; Toynami Social Feed page brings all the social channels Toynami has opened for their clients onto a single page, making it easy to follow.
Having an app means direct and personalized contact with customers
The take home message? Get your app now! You can have your own low cost app, personalized and designed with your needs and priorities in mind. Why not impress your customers with an app that bears your name on it at the next important event in your business schedule? Call us now and you will have it in just a couple of days!
Alphatech and ke Solutions have partnered up to create an app building platform that is focused on giving you the app that will make you stand out in any crowd. An app specifically designed to help you build and retain customers. An app able to inform people of what you have to offer and guide them effortlessly to where you are. An app to funnel business to you and user experience to customers.
No superhero without an app or website!