Are you still dreaming about having your own app? STOP dreaming and START doing it! AlphaTech is a DIY platform for mobile application development that will help you launch your own app in as fast as 30 minutes! No coding skills are needed!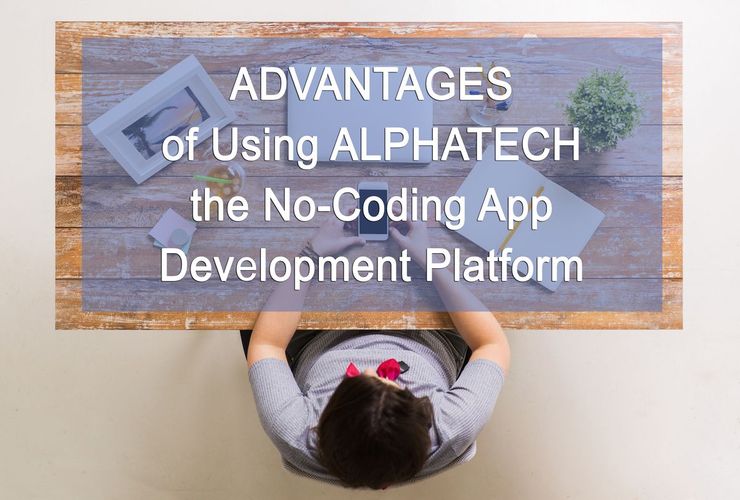 Listed hereunder are some of the cool advantages obtained when you use AlphaTech:
DESIGN YOUR APP
Create NATIVE APPS that are up-to-date with the latest web, iOs, or Android requirements.


You can start right away because there is NO SOFTWARE TO INSTALL.


The making/managing your projects is extremely FAST and SIMPLE and there is NO need to know any CODING.


AlphaTech provides the possibility of TRYING IT FOR FREE and seeing if you need to go Premium or not yet.


AlphaTech provides a SINGLE MANAGEMENT INTERFACE, that will become your app's back office.


The AlphaTech platform is designed to FULFILL DIFFERENT BUSINESS NEEDS.
BUILD YOUR APP
There are many ways to configure your app to CUSTOMIZE your product according to your business requirements.


AlphaTech provides HIGH QUALITY, PROFESSIONAL LAYOUTS, based on proven UX best practices and specifically developed to meet your mobile marketing goals.


There are multiple EASY TO EDIT DESIGNS and ELEMENTS so you can have full control over the look and feel of your app!


Thanks to THIRD PARTY API INTEGRATION you can Sync your app with your website or blog RSS, social media accounts, eCommerce shopping cart, and more.
LAUNCH YOUR APP
It is SECURED, EXTENSIBLE, and INTEROPERABLE app builder.


Thanks to our cloud-based services you can MAKE CHANGES ANYTIME you want and they will be PUBLISHED INSTANTLY.


AlphaTech allows you to track your app's success with ADVANCED ANALYTICS.


Reaching customers was never easier through PUSH NOTIFICATIONS.
IMPROVE YOUR APP
There is a support TEAM OF PROFESSIONALS that are ready to assist you if needed.


Improve your user's experience by using IN-APP FORMS to gather their feedback and reviews.


Create LOYALTY PROGRAMS and reward customers with special offers and discounts using in-app stamp cards, coupons, check-ins, and QR codes.
SCALE YOUR APP
AlphaTech helps you drive SCALABILITY so you can grow your business as much as you want.


There are COLLABORATION CAPABILITIES to set up multiple accounts and manage permissions in case you want to bring your team into the project.


AlphaSocial offers you the APP IN APP OPPORTUNITY to simplify your life.


If you are a reseller agency, there are promising opportunities available for you. Check out the WHITE LABEL RESELLERS details.
ADDITIONAL RESOURCES
Has its OWN PLATFORM, AlphaPortal that provides a set of modular cloud-based services that allows you to design anything from simple to complex applications.


There are numerous ALPHA PRODUCTS available that will help you manage your business easier and connect with a community built around your interest area.


There are DIFFERENT PACKAGES for DIFFERENT SERVICES, starting with a FREE ONE!
Enough with the talking! It's time to start working! Expand your customer reach by creating a well-featured and fabulous app! We are here, every step of creating your native app, in your own language, just contact us if you have a question!