Somewhat unnoticed, Tyler White posted a blog last year tentatively making the connection between mobile apps and customer loyalty. So, what's the connection? In short, based on a 2013 Adobe's Digital Marketing Report one can reasonably conclude that: a) in comparison with websites, Apps are used longer and b) In comparison with websites, Apps are used more frequently. Admittedly, the connection between loyalty and usage is indirect, but the arguments are quite compelling.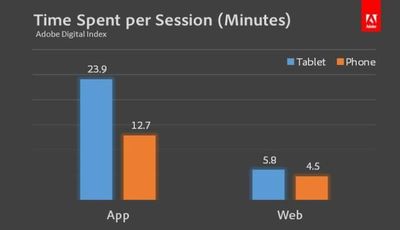 First, Apps win over websites in terms of duration. You can see in the image presented on the left how much time people sampled for this study spent on Apps in comparison to Web for a given brand. Smartphone apps are used almost three times as long as websites. In tablets the lead is even greater. Strictly based on time spent, apps are winning hands down.
Secondly, not only Apps are used for longer durations, Apps are used more frequently. This is important because one can counter the first set of data by arguing that navigating apps on tablets and smartphones can be rather cumbersome, hence the increase in duration. When one adds the second set of data - that Apps are used more frequently - this particular counter argument get untenable. A given brand's phone apps are used roughly twice as often per month as their corresponding mobile website.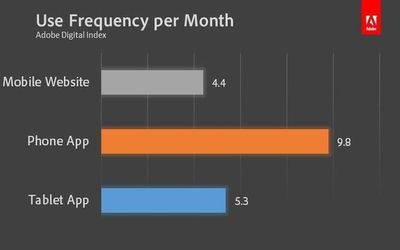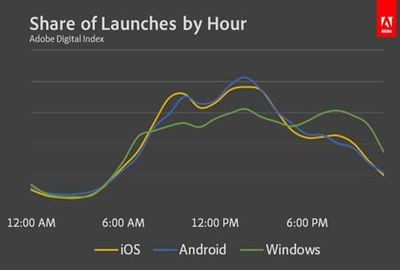 Does this translate automatically into customer loyalty to your app? Not necessarily. The simplest interpretation is that people like to have instant access to relevant brand information at work or while commuting. Look at the hourly share of launches for the three most common mobile platforms. The fact that after work or after school hours are less associated with app launches shows apps are used for quick updates and queries when access to a personal computer is not guaranteed.
All in all, having your own branded mobile app means you can tap into those "lazy" commuting times or offer quick access during a work break. If you offer good content and reliably informative notifications, your customers will become loyal users of your app. So, yes, investing in your own mobile app and a well-thought mobile integration of your business can easily translate into customer loyalty, that elusive but hugely important marker of success!
At alphatech.technology you can design and build in lego-like fashion you own App in no time at all!