Deloitte's reports are worth reading and keeping track of. The recent 2015 Global Mobile Consumer Survey is a case in point; covering 6 continents, 31 countries, and nearly 50,000 respondents, it's data should allow some solid ground on mobile trends. We recommend you follow the link provided to read it from the source; in the meantime, here are some highlights:
Smartphone adoption and use hasn't yet reached saturation point, while wearables are still at the beginning of their adoption cycle. Around 70% of respondents claim to have permanent access to smartphones: by the far the most accessible device. Checking the smartphone within 3 hours of waking reaches almost 100% in the 18 to 24 segment.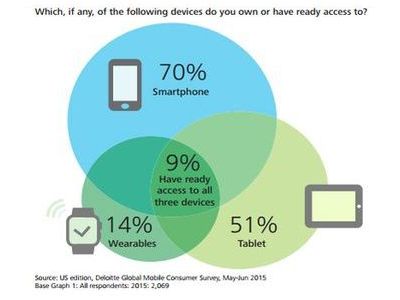 Interestingly, the activity that correlates the most with smartphone usage is shopping: 92% report using it. While, presumably, people check news, read books and exchange messages on public transport or while watching TV, the same is cannot be reasonably argued for shopping. The good news for businesses that invested in mobile marketing is that people really do check shopping information while shopping to help them make up their minds.