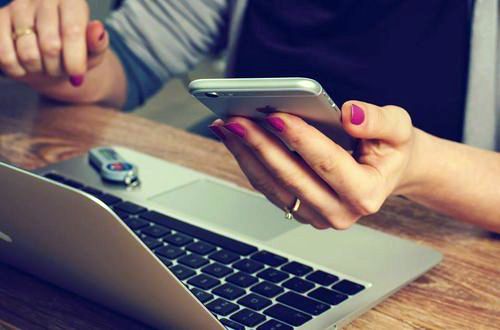 The Advantages of a Mobile App
Even though a mobile app works much like a mobile website, a mobile app offers businesses the advantage of having their own corner on a client's device. Due to the fact that users need to download and install the app, businesses have more control over their presence on a device than they would with a mobile website.
Think about this, a mobile app can be closed or inactive, however still work in the background to send geo-targeted push notifications as well as gather data about the customer's desires and behaviors. Additionally, mobile apps make it simple to deploy loyalty programs and use mobile payments using a single platform. Also, it is way much easier to access a mobile app than a mobile website - all it takes is one tap, opposed to having to open a web browser then type in a URL.
The Advantages of a Mobile Website
The main advantage of a mobile website is that it makes regular websites more accessible for mobile users. It can have all the same elements as the regular version of the website, however it features a mobile-friendly layout that offers improved readability and functionality when viewed on a smartphone or tablet. So, basically by having a mobile website, your clients can access your website anytime, anywhere using any device, without compromising the user experience.
Special App Features
When it comes to mobile apps though, they have some special, unique features. Here they are:
Focusing on special features and functions
Mobile application doesn't have to fully duplicate features of the responsive site. Some app functions are not always applied on the website and vice versa. For instance, Instagram users can watch photos on the website, however they are not able to upload them without an app.
Mobile apps work differently
Apps need to be downloaded from specific popular types of apps such as Google Play Market, App Store, Windows Market and third-party stores, and installation, as well as they can require access to your personal information or third party services. At the same time apps can guarantee bigger safety than browsers.
Apps can work offline
Depending on app's functions, you can download information or content and use it even without Internet access. However, most features will continue working offline in applications such as BBC news or Spotify.
Special user-friendly design
When it comes to design displaying - mobile app tends to be more resistant to the variety of screen sizes that might appear on the various phones and tablets. Also, the design for a mobile app is generally more user-friendly as it is done for a specific platform. So, pictures generally upload faster and the app itself uses less mobile data.
As a conclusion, you may want to consider getting both responsive website and mobile app, as they serve somewhat different purposes.
In case you think that a responsive website is a great solution to all problems, it is not. As a business owner you should always understand what the future brings and the future is in mobile technologies and their development. So, the equation is quite simple here.
Mobile apps work differently than responsive websites. They don't run on all devices and need to be installed separately but what they give is a unique user experience you need to provide for.
At Alphatech we have developed a robust, Geo Location based, modular advertising and marketing platform with the ability to offer subscription based Flash Deals, an E-Loyalty system, a unique refer a friend program that also allows businesses to interact with consumers through social media, e-mail, click to call, vouchers and push notification all via the mobile device. So, it's basically a maximum gain with minimum headache. Simple: retain, attract and engage your customers. Because, after all, that is what you want!
Using our platform is very easy. Features just fit together instantly. You only have to choose what you need - as simple as that.
To get a Mobile App, today, click here.