The retail industry is undergoing a paradigm shift: more and more customers rely on the online to shop. According to a recent post by Bill Siwicki from InternetRetailer.com, fully 47% of online retail traffic and 33% of online retail orders stemmed from smartphones and tablets in last quarter of 2014. More than that, this trend is very likely to increase as the share of mobile-only shopper proportion is going up for the top online retailers.
Apps in-store businesses: gremlin or helper?
Should we conclude that in-store shopping will be dead soon? Could apps help?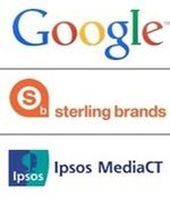 "Apps are for big businesses, they have the money to leverage online ads and front-row ranking in search engine results; small businesses cannot compete with giants, brick-and-mortar stores are not worth investing in, etc". At least, this appears to the be case if you listen to frustrated business owners recite their well-rehearsed mantra. On the other hand, a recent study commissioned by Google in partnership with Ipsos Media CT and Sterling Brands addressed these issues and managed to surprise marketers to some degree with it's upbeat conclusions.
Rather than heralding the extinction of brick-and-mortar stores this study predicts the failure of those that ignore customer demands - a fact well-known to any self-respecting trader even in ancient Greece. Results show that smartphones and online information offer an opportunity for stores to enhance consumers' shopping experience and, consequently, increase traffic and sales.
The customer's problem
The problem with in-store failing traffic is that customers think things should work differently.
Given the unprecedented access to information a smartphone offers it is no wonder that this study showed 80 to 90% of people using smartphones to look for information before or while in the store.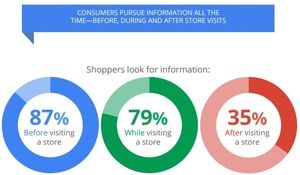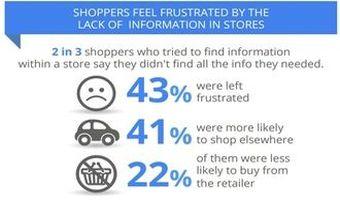 This is where the problem arises. Two in three shoppers could not find in information they needed within the store and almost half of them walked out frustrated (43%) an a bit less than half (41%) wanted to shop elsewhere! Even the prospect of running the risk of items not being available at the store is enough to make one in four shoppers avoid a nearby store altogether.
Crucially, though, your average in-store shopper is not actually willing to ditch in-store shopping wholesale. So what should be done?
Digital solutions for physical stores (but not only)
First, physical stores can provide helpful information online to drive consumers to stores. Take great care with the following categories of information, as they are particularly sought for:
Product availability: use local inventory ads to inform regularly shoppers about the product they're searching for being in stock nearby at your store.
It wouldn't hurt you to add some other products frequently bought together with the one they are looking for (after all Amazon does it and so could you).
Clear information about the store: location, hours, phone number.
Alphatech offers modules you can pick up "of the shelf" and incorporate (ridiculously easy) in an app that is your creation and corresponds to your needs. We specifically designed modules to address issues such as these (see images below).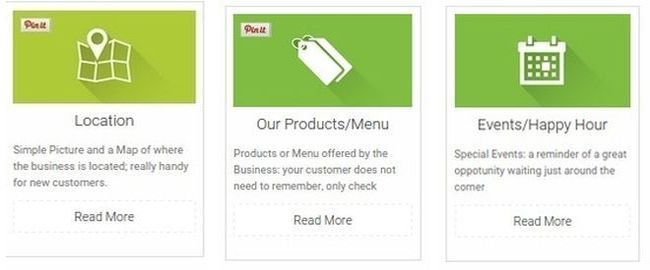 Want to go to the next level? The infographic below shows other categories of information shoppers find useful: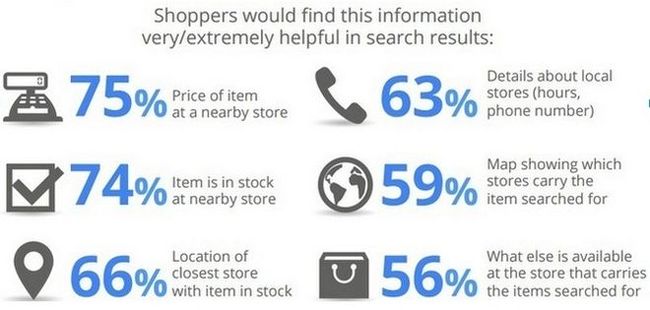 Secondly, one of your permanent goals should be to ensure you grab consumers' attention through search results and a retailer's mobile site or app. Up to 69% of store visitors saw brick-and-mortar stores as places to get more information that would help them during different phases of the purchase process itself. This means your store could be more than just a place to go an pick things up, as can be seen from the image below:

Finally, if you want to attract consumers to your store for more than just transactions you need to offer them a visit that is an informed and customized experience. How do you make it a customized experience?
85% want coupons and exclusive offers customized for them,
64% want customized product recommendations and
no less than 54% want recommendations based on friends / family purchases
Alphatech already thought of that and offers all that to brings you in line with the way your customers think today. Below you can see three examples of modules that will help you convince your customer that you know what they like and how they want to do their shopping.