The global pandemic had a huge impact on every business in 2020, and the food industry was no exception. Many have changed because of the consumers and their behavior. Trying to gain a little bit of perspective and clarity is not only necessary but also wise. The uncertainty of what lays ahead is weighing heavily these days on the minds of operations executives. There is only one thing for sure: the critical role of technology and business innovation will only increase in the near and long time future.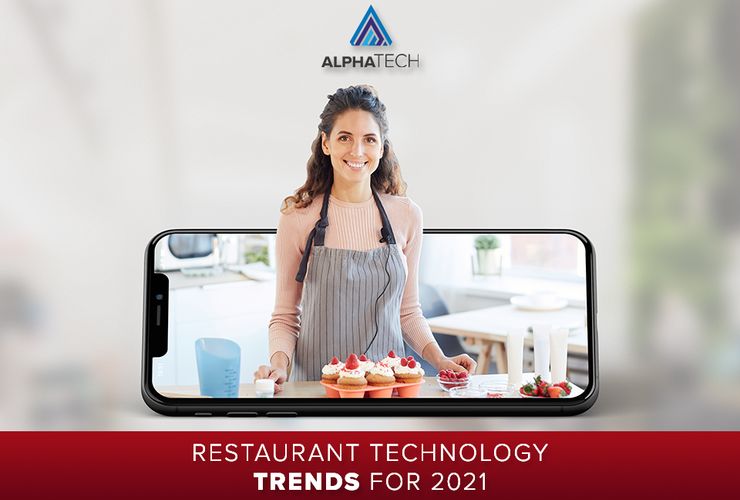 Here are a few restaurant trends expected to continue into 2021:
The customers' reliance on technology
Customers are expecting a quick dining experience that allows them to order, pay and takeout with less friction and without the wait time. This is possible only through the use of smart technology. The role of mobile applications increased a lot during 2020 and will continue to rise because the consumer's behavior switched from the 'in person' to 'take out' in order to increase safety. Embracing technology will drive success to the restaurant industry and bring customers back for repeating a satisfactory experience. The e-commerce boom is set to last after the pandemic. So, now is the time to focus on how to stand out from everyone else which is online.
Bass Zongo, corporate technology manager for Nobu Restaurants, affirmed the benefits in implementing new tech, rather than shying away from it.
"Keeping up with the trends puts us on par - if not at an advantage - with the competition. It helps streamline processes and make [restaurants] efficient," said Zongo. "Some of our restaurants have even improved their payroll numbers with the adoption of new technologies."
Online ordering and payment systems
There are many consumers who prefer ordering online directly, or through third-party delivery services. Delivery apps such as Uber Eats, Door Dash, and Postmates employ outside pick-up and delivery workers, so customers do not have to leave their homes.
Holden Bale, global vice president of commerce at Huge said that while restaurants in North America have typically been more conservative in adopting mobile and contactless payments, the COVID-19 pandemic quickly changed that.
"If you go beyond touchless, we're finding consumers want greater flexibility to order on their terms – whether it's delivery, pickup or dine in. It can be challenging to try to serve so many different patterns as a restaurant, but technology can make the lift easier," Bale said.
Shifting to an online ordering system allows your customers to order and pay with no unnecessary interaction. The system ensures prices are accurate and there's less room for error when it's time to settle the bill. An online ordering system increases the number of the customers and encourages them to keep coming back.
An online ordering system not only provides a platform to consistently meet government guidelines but it also works as your one-stop solution for increasing orders and customer engagement which will help you rank head and shoulders above the competition.
The importance of a good presence in the social media platforms
Forbes quoted Massimiliano Tirocchi, CMO and co-founder, Shapermint, who believes that social media will become a top channel for purchase, instead of just discovery. "Social media platforms like Facebook are making it easier for consumers to go from discovery to purchase without ever having to leave the platform, creating a simple and seamless path to purchase. With social commerce continuing to grow into 2021, retail brands will have to adapt to these platforms with new rules, similar to what many did with Amazon."
The role of the online environment in developing the brand
Sherene Hilal, SVP, product marketing and business operations, Bluecore, predicts that informed buyers want to buy from informed brands. "This means evolving even beyond the age of personalization and entering an age of personal commerce, where consumers co-curate their experiences with brands to reflect their preferences at any given moment. They expect for brands to understand what they've bought in the past and help them to determine what they should buy next, based on all the data that they've consciously shared with them by engaging with their sites and channels. This is not just a matter of brands meeting consumers where they are; it's about brands telling them what they want, when they want it. If brands and retailers are going to continue collecting first-party shopper data, they will need to begin actioning it in meaningful ways, predicting what their shoppers want to see next, and understanding where shoppers are in their buying cycles to predict when they'll want to buy."
Restaurant development in 2021 will be somewhat of a continuation of 2020, but the influence of Covid-19 pandemic will evolve during the year. Many of our new behaviors will become part of the new normal in 2021, helping drive major business innovations. Meanwhile, developing the online brand should be the focus through engaging their most loyal consumers. Because, in the end they are the ones who should benefit the most from your well done work.