Growth, in all its forms and shapes, comes with certain inconveniences. After Alphatech introduced the white label app program, we discovered one of these growth-related inconveniences: more gets actually published but you cannot brag about it, since white label apps (by definition) do not mention the app developer.
That is not to say we do not continue to develop and publish apps in our name as well. Here are two of the latest examples that bear our signature.
Business Broker South Florida launched with our E-signature feature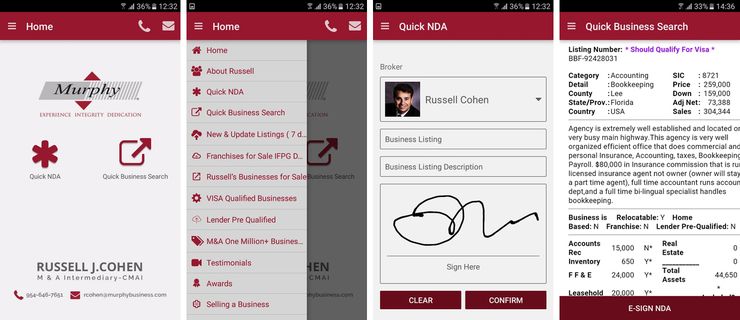 Russell Cohen is the premier business broker in the state of Florida since 2000, with a long string of awards and distinctions to prove it. He wanted an app for his growing business because more and more his customers were on the move. How do you offer top quality services to people that are on the move? Previously, you would have hired a team of secretaries or assistants and over information verbally over the phone and even then visits to an office would be mandatory. If nothing else, documents needed to be signed physically.
When Russell Cohen asked us if we could build him an app that could not only provide extensive information but also allow potential customers to sign nondisclosure agreements on the go we said yes. At the time we didn't have a module for e-signature, but we knew that our team of developers could build it.
Thanks to Business Brokerage South Florida App, anyone can search for businesses opportunities, sales and re-sales of franchise businesses, commercial real estate transactions, business valuations, machinery and equipment appraisal, machinery and equipment brokerage and business consulting. As mentioned above, an important feature of Business Brokerage South Florida App is its commitment to customer confidentiality: we have created an easy-to-use NDA that allows digital signing and makes the whole process as frictionless as possible.
As you can see, Alphatech all about customer satisfaction: we give businesses the features they need!
Download the app for *iOS or Android.
*the app was submitted and awaits approval by iStore
ITPalooza - the official ITPallooza Event App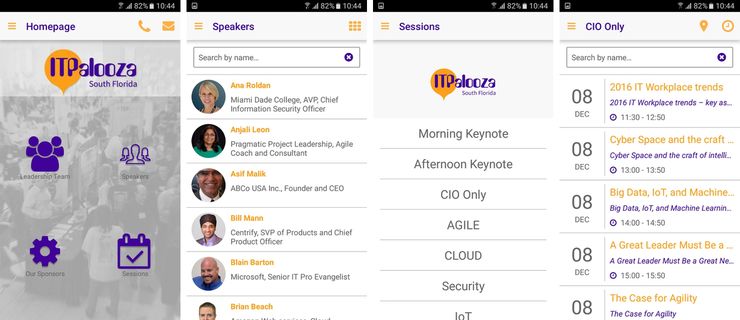 ITPalooza Event app is a guide an annual IT-centric conference with a broad-based appeal held in South Florida. Now in its 5th year, ITPalooza is a key event that brings together the entire South Florida IT community from CIOs through Tech User Groups to top local, national and international presenters and guests.
ITPalooza is event app with many advantages for organizers, speakers, but even more so for visitors:
Stay up to date on all the latest announcements
Locate sessions and find information about topics, speakers easily
Customize and share your personalized schedule
Rate speakers
Network and connect with the right people by swapping business card information effortlessly via our QR code scanning feature.
Download the app for *iOS or Android.
*the app was submitted and awaits approval by iStore
Having an app means direct and personalized contact with customers
The take home message? Get your app now! You can have your own low cost app, personalized and designed with your needs and priorities in mind. Why not impress your customers with an app that bears your name on it at the next important event in your business schedule? Call us now and you will have it in just a couple of days!
Access to Opportunity is Power
Alphatech and ke Solutions formed a strong partnership that is able to offer you direct access to opportunity: your own custom built native app for just $899! Who could miss the chance to get their own custom-built native app at his incredible price?

Ready to grab YOUR opportunity?