There are more and more small and medium businesses that realize now how important it is to have a mobile app in order to stay competitive these days.
Although not so long ago, mobile apps were a reserve of large corporations and businesses, today, smaller companies are serving clients better and seeing much greater returns on investment thanks to mobile apps.
Businesses can also push sales through the mobile device. Creating a functional Facebook or Twitter account is excellent, however it is simply not enough. Around 90% mobile users prefer using apps to visit media instead of going to a website, which highlights the importance of mobile apps.
There's a constantly growing number of mobile users and businesses offering their own apps, therefore you have all the reasons why you should have your own mobile app.
So, the bottom line is - YOU NEED AN APP!

Here are 10 ways mobile apps help your business grow:
Earn More Customers
Today's consumers are continually moving and are addicted to their mobile devices. So, there's no doubt that they would appreciate a useful and engaging mobile app from your company. And the obvious thing that will happen if your app helps them save or kill time or is simply awesome, is that they will refer you to their friends and family.
Boost Profits
When customer satisfaction increases, sales usually do as well. According to SalesForce, 70 percent of buying experiences are influenced by how customers feel they are being treated.
Be aware that the more pleased people become with your product and your business, the more consumer demand will grow. And when this happens a mobile app will become a must.
Improve Customer Engagement
Regardless of what you are selling, your customers need a way to reach you. Having a messaging (or help desk) feature within your app can really make a difference in the way you communicate with your customers. Instead of calling you they can reach you to get your product with less than five clicks on their platform. And, be aware that most customers would prefer to communicate with you via text than via phone.
Better Branding
Mobile apps can help increase brand awareness and also make people more loyal to your product and company. The way it works is really simple: once your company's name or logo is on the user's mobile screen, it will be hard to forget it or neglect it.
Besides, mobile apps come with different features, such as push notifications. Therefore you have the option to remind users of a special offer or promotion simply to attract their attention.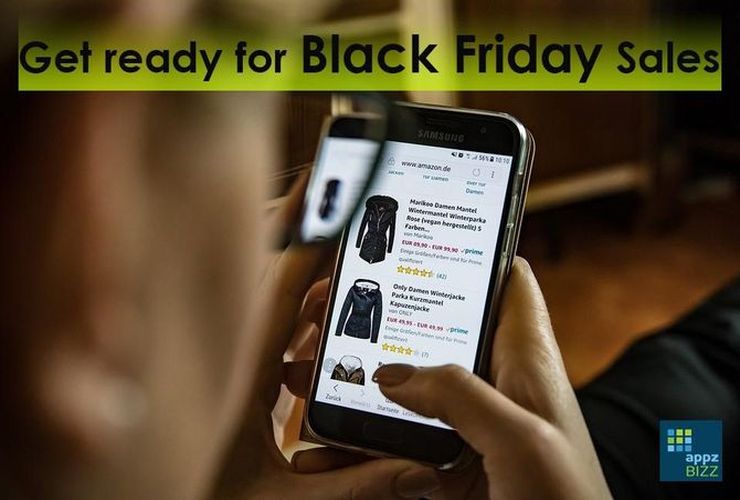 Black Friday Sales Grow With a Mobile App
According to statistics during last year's busy holiday shopping season, a third of all online purchases came from smartphone users. Black Friday was obviously in the mobile fever too, as close to 40% of sales on the traditional shopping day came via a mobile device.
The fact is, it's now statistically much more likely that eCommerce customers will be interacting with your website from a smartphone or tablet than a desktop. Knowing this, it's your responsibility to create a shopping experience that appeals to your customers.
Statistics show that on Black Friday 2016, 48 percent of online orders were generated via mobile devices, up from 40 percent in the previous year. And, during the October 2017 survey, it was found that 21 percent of respondents were planning to spend up to 50 percent of their total Black Friday budget online.
Drive More Action
With increased engagement comes increased action. Mobile apps are far ahead of any other mediums when it comes to driving targeted action from the users. Regardless of whether your goal is for users to buy a specific product or sign up for a new service, mobile apps are your best chance.
Accelerate Product Innovation
Mobile apps open up new business dimensions and opportunities due to the way they are used. You can identify new ways of resolving customer issues and fulfilling client needs. This drives innovation and provides a way to new products and services.
Make Your Presence Felt
Your mobile app will continue to remind users about you. Even when they're offline or using some other apps, they would regularly view your app icon in their app list. And this will always keep you at the forefront of your customers' mind.
Boost Your Website Traffic
As you may already know, Apple's app store and Google Play receive millions of hits every day. So, in case your app is properly optimized for the app store, not only can you attract more downloads, but also route highly targeted traffic to your website and get backlinks from high authority pages. How great is that? It's exactly what you need.
Everyone Is on Mobile
Nowadays most people are on mobile on daily basis. It doesn't even matter what service or product you sell, having a mobile app is a must these days. Think about this: since 2008, the average mobile phone user in the world spends three hours on the phone. And, more importantly, the three hours daily are generally spent interacting with mobile apps.
Now, you draw your own conclusion. A mobile app is truly a must, isn't it?
Well, the good news is that Alphatech can get you a fully functional business app in less than 24 hours. Simply tell us what you want your app for, the features you want it to have and how you want it to look like. It's really simple.
Want an app that can boost your business? Fill in the Build my App Form, here.