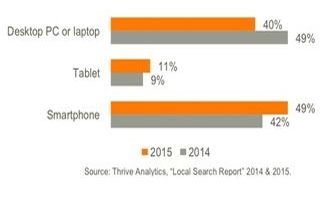 Mobile-friendly is no longer an option but a necessity. Google's announcement that they intend to expand their use of mobile-friendliness as a ranking signal is the logical outcome of the increase we've witnessed in the mobile search segment. Google's concept of app indexing amply confirms the way online business will proceed for the next couple of years at least.
While in February (when the announcement about mobile-friendly sites ranking was made) it didn't received the attention it deserves, come April 22nd the blogs and forums should be thrumming with it. Actually there is even a new name for it and we started seeing some creative advertising appearing connected to it (see on the right). Haven't got the chance to do the digging necessary to uncover who actually coined the catchy term for it - mobigeddon - but I think it couldn't have appeared earlier than the end of March. If so, it shows a lot of people haven't realized the importance of this move Google is making.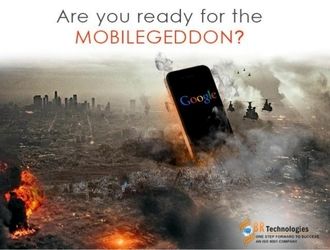 Mobile is on the rise and this has implications. Good or bad, depending on what your company does. The fact that even now there are a lot (really a lot!) of big and small companies that haven't upgraded their sites to the new realities of a mobile driven market means you can gain a significant advantage NOW by doing what needs to be done. Go mobile!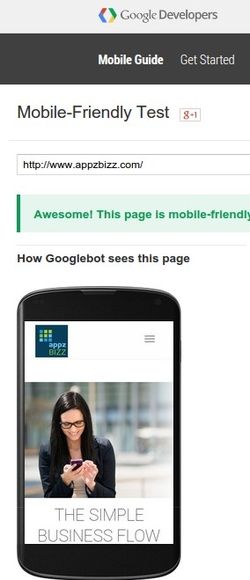 Take us for instance: we've know this was coming since last year and acted accordingly. Our site is mobile-friendly (being a responsive web design) from the moment it was launched in 2014. It simply wouldn't do to have a professional app-building website that is not mobile-friendly.
Google seems to be taking things somewhat slowly: Gary Illyes explained earlier this year at SMX West that only mobile index rankings are Google's targets. But don't be fooled: this is for now only.
The mobile dominance trend shows no signs of abating and it is simple common-sense business strategy to invest one way or another in the mobile. Not only get your site to be mobile friendly, but actually have your own app. Google seems intent on pushing also it's concept of app indexing. One very important implication of which is that a good app can bring you a lot of capital in terms of search ranking in addition to all the other advantages an app already is recognized for. The app you invest in, if properly handled, will soon be in a position to even outpace your website in terms of organic traffic it funnels your way.
At Alphatech we see and take into account trends long before they become commonplace practice. We make apps for everyone; no matter how small your business is you can afford the boost our apps will bring to your business.
Be mobile NOW.