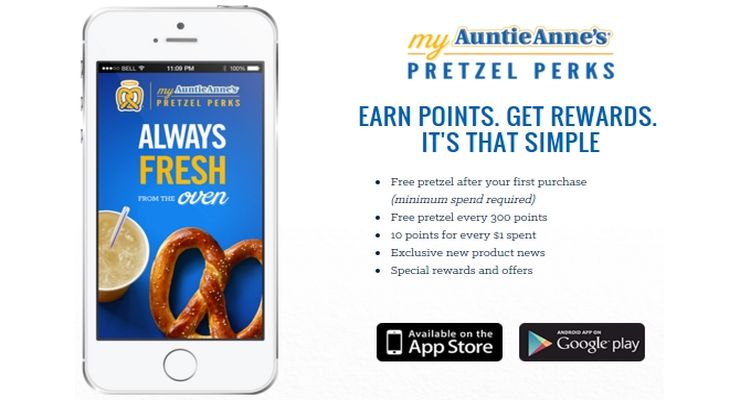 Let's clarify something from the very beginning: this blog is not about pretzels, it's about being smart about your customers. From the image above you can see how the app - Pretzel Perks - made by Auntie Anne's is all about rewarding loyalty. In fact, the slogan accompanying this app is clear enough: REWARDS THAT RISE WITH OUR DOUGH. We decided to talk briefly about this app to exemplify the importance of being able to engage customers and gather a loyal fan base via a mobile app.
First, there is a entry reward: a pretzel you get for free with your first purchase.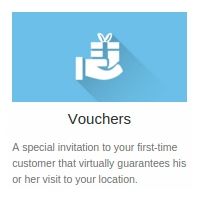 Picture the following scenario: a happy customer deciding to refer your product or service to a friend. That friend is a newcomer to your business and just wants to try whatever you have to offer, but, as of yet, it is far from clear that he or she will become a loyal customer. One way to start on the right footing with a newcomer is to make a positive impression. Auntie Anne's giving a pretzel for free is exactly that. One the left, you can see that our app building platform offers a feature that can do the same for your own customized native app.
Secondly, Pretzel Perks rewards customers with a free pretzel for every 300 points accumulate and offers 10 points for every $1 spent with them. This is the core of their loyalty program. It ensures that that customers have additional incentives to come back regularly; if you love pretzels and buy them anyway why not benefit from it? Sounds familiar?
That's because almost every retailer does it. If you are a small business you may think that the costs of keeping track of all those coupons and vouchers is more than the benefits your might receive. Nowadays this in NOT TRUE anymore! The app does it all. There are zero additional costs and no need to keep track of everything. Do you want to build something similar to Auntie Anne's Pretzel Perks? Just check this feature on our website and we will incorporate it in your own app right away!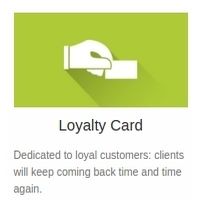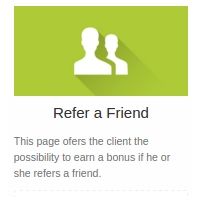 Do you remember the old example your math teacher used to give when explaining exponential growth? The one about a chess master asking from a king a "humble" reward in the form of a single grain of rice on the first chessboard square and double it for each square? Even if starting very humbly, the whole kingdom does not have enough rice to to make it halfway through the chessboard!
With this feature embedded in your app you will actually gain a significant advantage; an advantage that Auntie Anne's app doesn't yet possess.
Our Refer-a-Friend feature maximizes customer base growth by rewarding a customer that refers a newcomer to your business. Take your business to the next level and allow it the tools to grow exponentially!
Finally, Auntie Anne's Pretzel Perks boasts that it is always near their customers, keeping in touch with news, special offers, etc. A very good idea in today's world of instant communication! If you agree, check these modules that can do that and even more!

Do you think you should keep your loyal customers... loyal? If so, there are few better suited tools for this than Alphatech apps!